Model 2012iP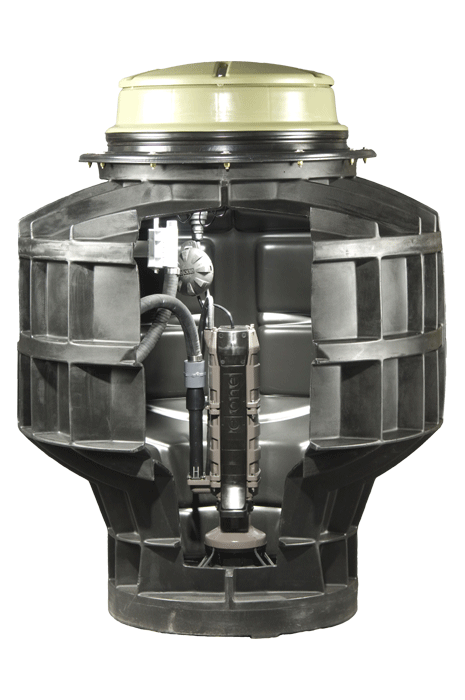 The GP 2012iP grinder pump station consists of a pump and holding tank. The grinder pump, motor controls and level-sensing are integrated into a compact unit, easily removable for service.
Features
Solids are ground into fine particles that pass easily through the pump, check valve and small-diameter pipe lines — even objects that should not be in sewage, such as plastic, rubber, fiber, wood, etc. The 1 1/4" discharge connection can be adapted to any piping materials that meet local code requirements.
The tank is made from tough, corrosion-resistant, molded polyethelene and offers 989 litres of capacity. The GP 2012ip can accommodate flows of up to 3500 litres per day.
The grinder pump is automatically activated and, because it runs infrequently and for very short periods, its annual electric energy consumption is typically that of a 40 watt light bulb.
E/One grinder pumps do not require preventive maintenance. If service is required, the unique, one-piece core eliminates the need for in-field troubleshooting and servicing — the pump core can be quickly pulled out and replaced, meaning minimal maintenance costs and inconvenience for the homeowner.
Operational Information
Motor:
1 Hp, 1,450 rpm, high torque, capacitor start, thermally protected, 240 volt, 50 Hz, single phase.
Discharge Connections:
1 1/4" BSP female thread
Can be connected to PE or uPVC pipe or any material required by local codes
Discharge:*
.75 lps @ 0m TDH
.63 lps @ 20m TDH
.47 lps @ 42m TDH
Overload Capacity:
The maximum pressure that the pump can generate is limited by motor characteristics to a value well below the rating of the piping and appurtenances. Automatic reset feature does not require manual operation following overload.
US and foreign patents issued and pending.
*Discharge data includes loss through check valve which is minimal.
Downloads