Port Orchard
An upscale community overlooking the Puget Sound.
Beach Drive in Port Orchard is an established community of 210 homes in the Pacific northwest.
The Land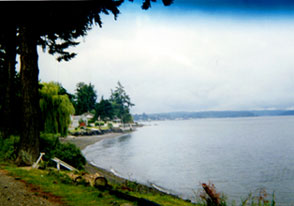 High groundwater set the stage for an E/One Sewer System.

The Problem
• High ground water
• Failing septic tanks
The community was faced with an urgent problem: septic tanks were failing, creating a serious health issue and impacting the oyster and clam beds of Puget Sound.
The Solution
The E/One Sewer System has saved critical time and cut the cost of replacing the failing septic tanks. The estimate for a gravity system was approximately $6,500,000. The E/One Sewer System is estimated at $3,000,000 — a 58% savings!
Port Orchard Today
A work in Progress
As the project moves forward, it is anticipated that adjoining neighborhoods confronted by the same septic tank problems will install E/One Sewer Systems.
Testimonial
"The Beach Drive area was declared a health hazard by the local Health District. We needed a feasible solution for 200 homes along 4 1/2 miles of shoreline containing a lot of rock and high water tables. We investigated several ways to do the sewers and decided on the E/One system because of the ease of installation, low cost, and its record of dependability. We have at least one other area like Beach Drive and will be using an E/One system."
— Dick Fitzwater
General Manager
Kitsap County Sewer District