Indoor Units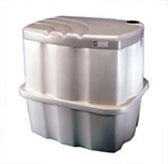 For years, E/One grinder pumps have set the standard in low-pressure sewer system technology. They worked harder. Lasted longer. And required virtually no maintenance.
Once again, we're going places. A place where other grinder pumps just can't go. Inside. With an indoor unit that installs in a matter of minutes, has a clean design, and seems at home with other household appliances.
Introducing the E/One 2010-IDU. It's quiet. Clean. Efficient. Safe. Easy to install. And easy to live with.
It can be used as part of a new E/One Sewer System or retrofit into an existing low-pressure or gravity system.
If you're ready to take your construction new places, don't settle for the status quo. Go new places. With the E/One 2010-IDU Home Wastewater Disposal System.

Features and Benefits
E/One 2010-IDU indoor grinder pump is a complete unit ready for installation that includes grinder pump, check valve, controls, and a tough, noncorrosive tank made of high-density polyethylene.
Like any major appliance, the E/One indoor unit requires only a 240-volt outlet to install and operate. Requires only a pipe in/pipe out simple plumbing connection.
The grinder pump within the tank is state-of-the-art, grinding all solids into fine particles for easy, reliable disposal through small-diameter pipes to a central treatment plant.
The grinder pump is automatically activated and runs infrequently for very short periods.
1 1/4-inch discharge connection is adaptable to any piping requirement, thereby meeting local codes.
91-gallon tank capacity is based on water usage patterns and more than adequate to meet the needs of single-family homes.
Internal check valve assembly is custom designed for non-clog, trouble-free operation.
Typical electric power costs for a single-family home is between $15 and $20 a year.
Designed with sound insulating properties.
Operational Information
Motor:
1 hp, 1725 rpm, high torque, capacitor start, thermally protected, 240V, 60Hz, 1 phase
Inlet Connection:
4-inch PVC socket weld
Discharge Connection:
Pump discharge terminates in 1 1/4-inch NPT female thread. Can be adapted to 1 1/4-inch PVC pipe or any other material required by local codes.
Discharge*:
15 gpm at 0 psig
11 gpm at 40 psig
9 gpm at 60 psig
*Discharge data includes loss through check valve, which is minimal
Overload Capacity:
The maximum pressure that the pump can generate is limited by the motor's characteristics. The motor generates a pressure well below the rating of the piping and appurtenances. The automatic reset feature does not require manual operation following overload.
Alarm Display:
An audio/visual alarm with a battery backup indicates any loss of power to the unit.
Dimensions:
29" x 37" x 35"
Downloads