Sentinel Estates, Wilder, Kentucky
Downloads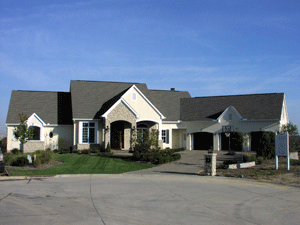 Sentinel Estates focus sheet (PDF)
Sentinel Estates is a small, luxury home development with gorgeous views of the Ohio River and Cincinnati. Each home features a 1- to 5-acre lot a walkout to the woods — along with a 10- to 12-foot drop between lots. Gravity sewers would have been nearly impossible because of the hills, bedrock and requirement of several expensive lift stations.
The Land
Steep hills required that a gravity sewer be located uphill or substantially downhill from the homes. Large, deep trenches, lift stations and easements would be needed.
The Problem
• Steep terrain with 10- to 12-foot drops between lots
• Difficult-to-obtain easements would be required for a gravity sewer system, delaying the project, if allowing it at all
The Solution
• Shallow trenching lowered excavation costs and required less environmental disruption
• An E/One GP 2012 was installed at each home to pump wastewater uphill to the sewer main
Sentinel Estates Today
• Buildout of 10 homes is complete
Testimonial
"If it wasn't for E/One Sewer systems, we couldn't have developed Sentinel Estates. I like to call it the 'view pump.'"
— Michael Dinn, Ashley Development