Cleaning Up the Keys with an ALL-TERRAIN Solution
The crystalline shores of the Florida Keys project the illusion of the mythical Fountain of Youth's restorative powers. "Life is different down here," many of the 75,000 residents and 4.4 million annual visitors to the Keys declare. An "island time" spirit encourages the citizens to presume they've escaped the mainland's everyday problems.
In reality, thousands migrating to the Keys, inadvertently spawned gentrification and a construction boom stubbornly reliant on outdated on-site wastewater disposal techniques. This situation threatened its status as a global commercial and sport fishing capital, as well as diving and snorkeling for the nation's only living coral reef -- the world's third largest -- anchoring 70,000 jobs and $7 billion in economic activity.
In just one generation, the unregulated wastewater infrastructure shouldering a proliferation of homes and businesses converted canals, inlets and beachfronts into, as one critic noted, "toilets."
"When I first moved to the Keys in '78 the waters were blue, clear, with a lot of healthy coral," says fisherman Don DeMaria. "Today it's green, visibility's decreased. The coral, the few that's left, are in pretty bad shape. It's no longer one of the diving capitals of the world. It's second, maybe third rate."
Flash back to around 1990 when Dr. Brian Lapointe, a scientist at Florida Atlantic University's Harbor Branch Oceanographic Institute, identified the contaminant: sewage from some 30,000 septic tanks, cesspits, straight pipes and camp buckets was depositing nitrogen near the reefs in turn creating algae growth which begets coral-killing diseases. Eutrophication had begun.
"The thing about the Keys is, they love low nutrient conditions," says Lapointe. "Our waters were being polluted with not just nutrients but bacteria, viruses and other organic wastewater compounds and many realized we have to do something about this."
Today, Monroe County is fulfilling a nearly $1 billion sanitary wastewater master plan. Where possible, the ancient coral bedrock is excavated for deep, expensive but still leak prone gravity sewers. Elsewhere, the highest-value and environmentally-sensitive waterfronts and marine habitats are converting from septic to the dynamic yet economical and low-profile All-Terrain Sewer™ (ATS) system developed by Environment One Corporation aka E/One.
E/One is providing more than 3,000 grinder pumps anchoring low-pressure sewers throughout the 110-mile chain of nearly 800 islands comprising Monroe County where for decades they've serviced Key West's famed Mallory Square and the Naval Air Station. Now the ATS extends to trophy homes on Key Largo's Millionaires' Row, the renowned Dolphin Research Center of Grassy Key and even remote No Name Key.
"The ATS solution that we have in the Florida Keys is a wonderful design," says Lapointe. "Its sealed systems prevent leakage of raw sewage into these unique environments and deliver that wastewater stream to a plant where it's treated to a very high level."
"This ALL-TERRAIN SEWER system responsible for helping restore the fragile environmental treasure known as the Florida Keys offers the gentlest touch on the land of any technique," says E/One president Eric LaCoppola, "while simultaneously providing a most robust solution that will improve and protect the Keys' public health and overall quality of life for its inhabitants and generations to come."
Download a Word DOC of this press release
Video Footage
Septic tanks have had a detrimental effect on the waters of the Florida Keys, killing sea grass, fish and the reef. The Keys have been implementing a wastewater master plan to improve near-shore water quality. Find out how ALL-TERRAIN SEWERS from E/One are making this possible.
About Environment One Corporation (E/One)
Environment One Corporation (E/One) is a diversified, high-technology company located in Niskayuna , New York , U.S.A. Manufacturing, engineering, administration and marketing operations are managed from Niskayuna. Environment One Corporation is owned by Precision Castparts Corp.(PCC), a worldwide manufacturer of complex metal components and products. PCC is a wholly-owned subsidiary of Berkshire Hathaway Inc. (NYSE:BRK.A)
Low-pressure, gravity-independent, contour-following sewage collection systems were pioneered by Environment One. E/One Sewer® systems have proven to be an economical and effective method of sewering otherwise difficult land areas, such as flat, wet, rocky and hilly terrain.
At the heart of an E/One Sewer® is the grinder pump, developed by Environment One. These units accept household sanitary waste, grind it into a fine slurry, and pressurize it to permit transport through small-diameter pipes. E/One Sewer Systems serve over 1 million end-users daily.
E/One's Sewer Systems business is ISO 9001:2008 certified.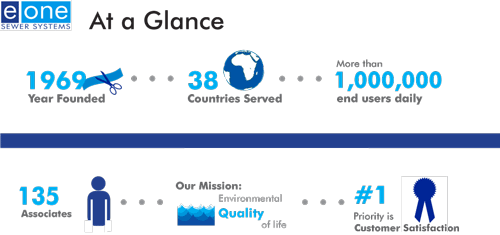 Media Inquiries
For media inquiries, please contact:
George Vorsheim
518.579.3279
gvorsheim@eone.com