New E/One EXTREME Series Grinder Pump sets Stage for Mass Adoption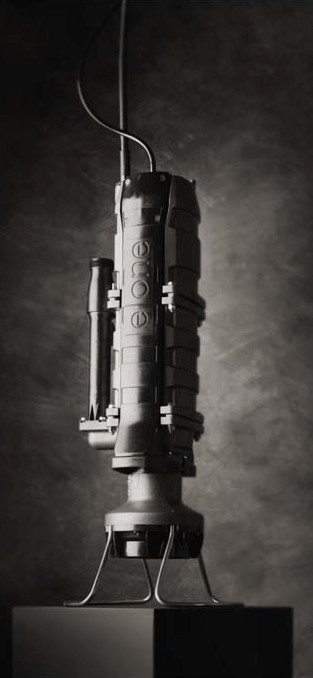 Niskayuna , New York — 6 June 2007 — Environment One Corporation (E/One) is launching a new line of grinder pumps for pressure sewer systems. "We are driven to provide Extreme Customer Satisfaction, and as a result our new E/One Extreme series will change the way the marketplace perceives this category," said E/One president, Philip Welsh.
The new pump line further exceeds the performance and application abilities of the former 2000 Series sewer pump, providing greater total dynamic head (185 ft. vs.138 ft.) and a longer life expectancy. Welsh said, "… with certified installation we expect to see average mean times between service calls rise above the 15-year range, well beyond our current industry-leading 10 years."
Already considered the most reliable system on the market, the E/One Extreme series further enhances the company's dominance in the pressure sewer industry, which still represents a small fraction of total sewer systems installed in the United States. "The perception of grinder pumps has been that they are 'electro-mechanical devices' that require constant maintenance," according to Mr. Welsh. "The E/One reality is that we are virtually transparent to the homeowner, and the E/One Extreme series just furthers our invisibility with extended life and zero preventive maintenance."
The idea of the E/One Sewer system is relatively simple: the E/One Extreme grinder pump station collects all of the wastewater from the home, grinds up any solids and then moves the effluent through small-diameter (11/4" to 4") pipe to treatment. Geotechnically challenging sites that were once costly or impossible to sewer before are now serviceable with E/One. Rocky, hilly and wet sites are great candidates for E/One to sewer at a fraction of the cost of conventional gravity systems, and recent studies are indicating the E/One system to run at just half the operations and maintenance budget of gravity sewer. According to Mr. Welsh, "Less installed cost and less O & M add up to greater homeowner satisfaction, and that's what it's all about."
Environment One Corporation is an operating company of Precision Castparts Corporation (NYSE:PCP). With corporate headquarters in New York and regional offices and distribution throughout the industrialized world, Environment One is a manufacturer and provider of sewer systems for residential wastewater disposal and utility systems for the protection and performance optimization of electric utility assets.
-30-
(CONTACT: Media; George Vorsheim, 518-346-6161 ext. 3279)