Generator Gas Analyzer (GGA)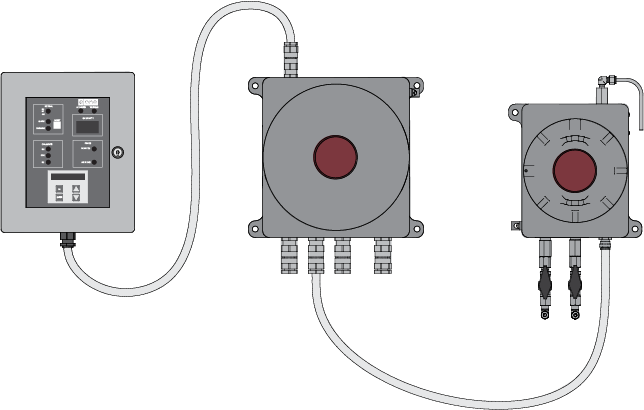 E/One's Generator Gas Analyzer (GGA) for hydrogen-cooled generators is a triple-range sensor/analyzer that provides continuous monitoring of gas purity during all phases of generator operation.
GGA uses a proven monitoring principle, thermal conductivity. GGA is an extremely accurate, robust and stable system that eliminates the issues of drift and need for frequent recalibration seen in other thermal conductivity systems.
Available Configurations
GGA systems are availabe in a range of configurations, from stand-alone sensor/analyzers and retrofit "drop-in" replacement systems, to comprehensive hydrogen control cabinets that monitor gas purity, provide continuous monitoring of case and differential pressures and interact with plant control systems to assure the highest level of generator efficiency.
E/One also offers a portable hydrogen gas analyzer (PGA). The PGA incorporates the same sensor/analyzer and system electronics found in E/One's other gas purity systems. The PGA is specifically intended for use in non-hazardous environments and/or as an emergency backup if a power plant's primary gas purity monitoring system is compromised.
E/One's hydrogen gas monitor is also available as part of the E/One Gas Station, which lets power plants combine several E/One generator monitoring and control systems onto one skid. Download the GGA brochure for installation into an E/One Gas Station.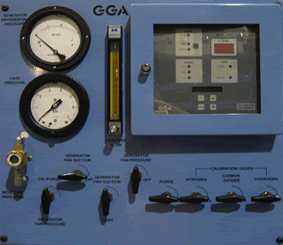 Available in North America, E/One offers best-in-class thermal conductivity and vibrating element technology with E/One's GGA and Yokogawa Corporation of America's (YCA) GD402. The E/One-YCA alliance brings together industry leaders focused on plant-level relationships and a wide range of generator applications. With E/One's GGA and YCA's GD402, operators are provided with options in continuous monitoring of gas purity throughout all phases of generator operation.
Generator Gas Analyzer Features and Benefits
Increased generator efficiency and safety
Microprocessor controlled
Flameproof, explosion-proof, and intrinsically safe designs
Custom configurations to meet site-specific requirements
Suitable for new and retrofit applications
Download the GGA brochure
Generator Gas Analyzer Specifications
| | |
| --- | --- |
| MEASUREMENT CHARACTERISTICS | |
| Technology Principle | Thermal Conductivity |
| Case Purity | 70% to 100% H2 in Air |
| Purge | 0 to 100% H2 in CO2 |
| | 0 to 100% Air in CO2 |
| Flow Rate | Nominal 500 cc/min |
| | |
| Resolution | +/- 0.1% |
| Accuracy | +/- 0.5% F.S. on H2 in Air |
| | +/- 1.0% F.S. on H2 or Air in CO2 |
| Linearity | +/- 1.0% F.S. |
| Drift | <0.2% / month |
| | |
| ELECTRICAL CHARACTERISTICS | |
| Power - Input Voltage | 115/230 VAC |
| Input Frequency | 50/60 Hz |
| Output Signal | 4-20 mA current output, self-powered |
| Output, Relays | 30V/1.0 A DC, 120V/0.5 A AC |
| Alarm, NO and NC | 125V/0.005 A resistive DC |
| | Warning, NO and NC |
| | Trouble, NO and NC |
| | Normal, NO and NC |
| | |
| MECHANICAL CHARACTERISTICS | |
| Overall Dimensions | Based on configuration |
| Enclosure Dimensions | |
| System Electronics Enclosure | 11" x 12" x 9.25" |
| Sensor Cell Enclosure | 8" x 10" x 6.25" |
| Display Enclosure | 0.5" x 8.5" x 6.25" or panel |
| Valve Panel (optional) | Mounted per requirement |
| Weight | Based on configuration |
| | |
| Temperature | 32-149 F (0-65 C), optional |
| | |
| Relative Humidity | 0-95% |
| Area Classification | Class 1, Zone 2, Group IIB + H2 |
| | |
| Gas Pressure | 100 psi maximum |
| Gas Connections | 1/4" female NPT |