Generator Gas Dryer (GGD II)
Water, oil, and other contaminants cause corrosion in critical areas of electric power generators, resulting in diminished efficiency and increasing the likelihood of forced outages. Increased dew point levels also detract from generator efficiency by increasing windage losses. E/One's Generator Gas Dryer (GGD II) is a dual-chamber system that continuously dries and recirculates generator cooling gas — even when the generator is on turning gear, which is a critical time to maintain low dew point.
Column regeneration is automated and takes place based on programmable inlet and outlet dew point levels. The GGD II has a secondary, programmable time-based regeneration feature, allowing you to set maximum times between regeneration (from zero to 30 days).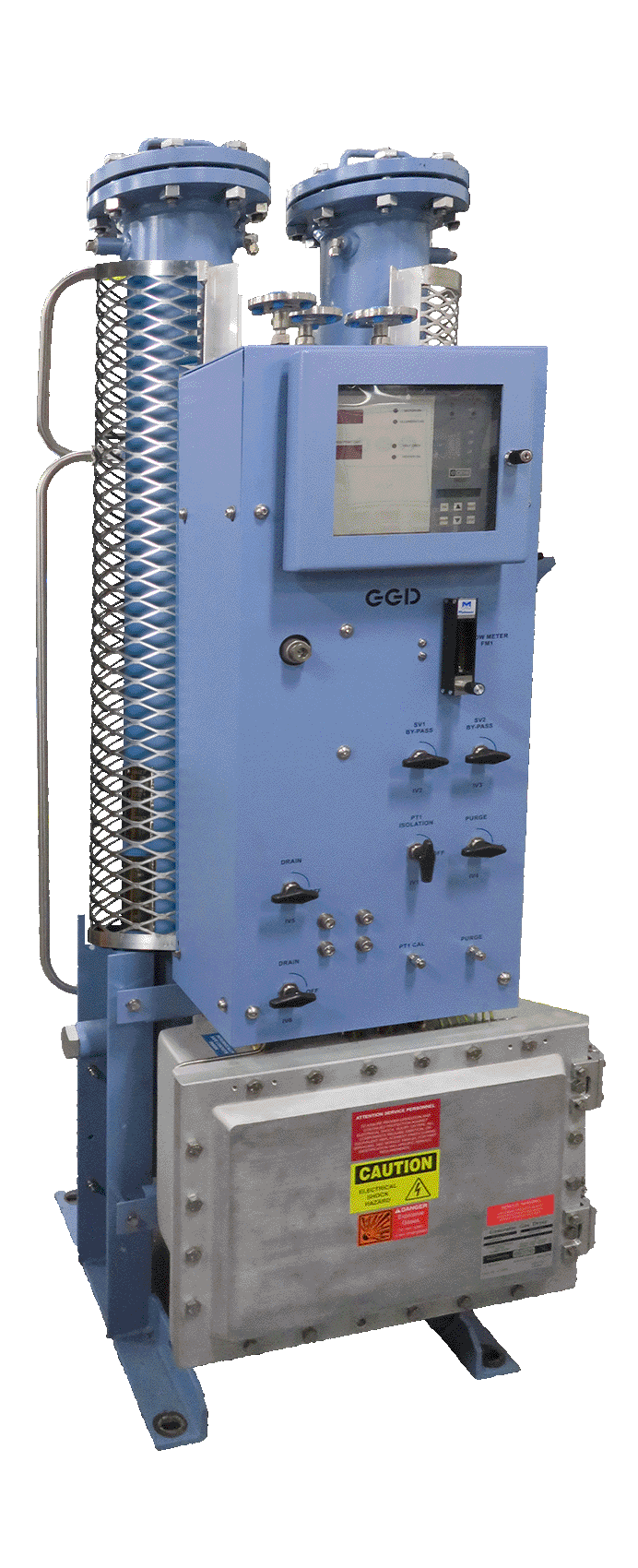 Generator Gas Dryer Features and Benefits
Increased generator efficiency and reduced downtime
Comprehensive water and contaminant removal
Microprocessor controlled
Designed for hazardous location operation
Self-monitored drying process
Standard electrical actuator
Compact design (29.75" w x 83" h x 38" d)
Download the GGD brochure
Generator Gas Dryer Specifications
| | |
| --- | --- |
| OPERATING CHARACTERISTICS | |
| Technology Principle | Molecular sieve as a drying medium |
| Typical Flow Rate | 8-12 ACFM, Hydrogen |
| Typical H2 Consumption per Regeneration | 90 ft3 (2 meters3) per generation for Mode 2 Regenex(TM) |
| | |
| ELECTRICAL CHARACTERISTICS | |
| Input Voltage | 400/480 VAC Three Phase |
| Input Frequency | 50/60 Hz |
| Input Power | 3,000 Watts |
| Output Relays | 5A @ 250 VAC |
| | 5A @ 30 VDC |
| | 100 mA @ 125 VDC |
| | Dew Point High, NO and NC |
| | Trouble, NO and NC |
| | |
| Output Signals | 4-20mA current output (self-powered) |
| | Input Dew Point |
| | Outlet Dew Point |
| | |
| Area Classification | Class I, Zone 2, Group IIB + H2 |
| | |
| MECHANICAL CHARACTERISTICS | |
| Ambient Temperature | 32 F to 125 F (0 to 52 C) |
| Maximum Pressure | 100 psi |
| Overall Dimensions | 83" H x 29.75" W x 38" D |
| Inlet & Outlet Connections | 3/4" ANSI Class 150 RF Flanges |
| Vent Connection | 1/2" ANSI Class 150 RF Flanges |
Generator Gas Dryer Menu Navigation