E/One Sentry Basic Alarm Panel for WX Grinder Pumps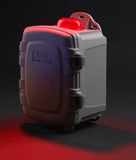 Drawings
E/One Sentry basic drawings (PDF)
E/One Sentry basic drawings (Zipped DXF)
Features
The E/One Sentry basic alarm panel is available for use with WX grinder pumps. The panels provide the latest technology and the greatest flexibility for customizing features to satisfy individual needs.
E/One Sentry panels are supplied with audible and visual high level alarms. They are easily installed in accordance with relevant national and local codes.
The panel features a corrosion-proof, NEMA 4X-rated, thermoplastic enclosure. A padlock is provided to prevent unauthorized entry.
Circuit breakers, 240 or 120 VAC service
Terminal blocks and ground lugs
Audible alarm with manual silence
Manual run feature and run indicator
Redundant start function with high-level alarm
Safety front — authorized personnel only when locked
Conformal-coated alarm board (both sides)
Alarm board overload protection