Webinars
Sewers & Sensibility in Knox County, Tennessee: ALL-TERRAIN SEWER Cuts Treatment Costs
November 2018
Bruce Giles, General Manager of First Utility District of Knox County (FUD), and Jill Davis P.E., Senior Civil Engineer at Environment One, discuss the evolution of FUD Knox County into the successful Triple A-rated district it is today.
Topics of discussion include:
A look at best practices including everything from the dynamics of securing the right financial instrument
Project delivery strategy
A look at the hole in the ground and the deployment of ALL-TERRAIN SEWER to ensure a safe, reliable, and ultimately economical solution that has lowered collection and treatment costs for FUD Knox County
Watch the archived version of this webinar (registration required).
---
Using the Life Cycle Cost Calculator for Sewer Project Evaluations
October 2018
How much does a sewer system cost? What are the life cycle costs of a sewer system? This webinar provides a holistic overview of life cycle cost analysis and the cost comparisons of pressure sewer systems to other central sewer technologies.
When evaluating wastewater collections system options, the true cost of long-term ownership has often been improperly considered. Evaluation tools, such as E/One's Life Cycle Cost calculator, provide a planning level assessment for the evaluation of long-term life cycle costs between a low pressure sewer system and a conventional gravity sewer.
This must-see webinar will review cost and operational parameters of a project's needs. Capturing all operational activities and basing costs on actual or historic data ensures a more complete assessment and facilitates the selection of the wastewater collection system with the most favorable life cycle costs.
Watch the archived version of this webinar (registration required). Additionally, the Cost Calculator tool is available in E/One's Design Center.
---
Introduction to Grinder Pumps
March 2018
This Introduction to Grinder Pumps is a "must see" seminar for anyone searching for alternatives and improvements to traditional gravity sewer systems or for septic-to-sewer replacement projects. This webinar provides an overview of grinder pump systems that will educate engineers, developers, operators, and consultants.
E/One's Vice President of Engineering Clark Henry and Senior Civil/Environmental Engineer Jill Davis, P.E., illustrate how grinder pumps are applied in new sewer systems, sewer renewal projects, and are instrumental in fixing failing gravity systems.
This one-hour webinar was moderated by J. Campbell, editor of Modern Pumping Today.
---
Every Dollar Counts:
Calculating Sewer Life Cycle Costs
February 2018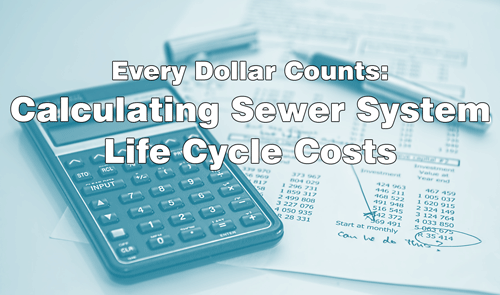 Pressure sewer systems have emerged over the last several decades as the low-cost, low-impact alternative to conventional gravity sewers. But exactly how much are we talking? What are the life cycle costs of a pressure sewer compared to a gravity sewer? This free, educational webinar providing a holistic overview of life-cycle cost analysis and the cost advantages of pressure sewer systems.
Specifically this online training webinar will compare low-pressure sewer systems to new construction of gravity sewers or renewal/rehabilitation of failed gravity sewers in terms of construction costs, community impacts (social costs), environmental footprint, and landscape disturbance. Within this examination, we'll discuss why and how the true cost of long-term ownership of wastewater collection system alternatives is often improperly evaluated. We'll then take a look at evaluation tools such as life-cycle cost calculators that provide a planning level assessment of the long-term life cycle costs between a low pressure sewer system and a conventional gravity sewer.
Finally, we'll wrap up by discussing how life-cycle cost calculators allow you to adjust both cost and operational parameters based on specific project needs. Capturing all operational activities and basing costs on actual or historical data ensures a more complete assessment and facilitates the selection of the wastewater collection system with the most favorable life cycle costs.
Watch the archived recording of this webinar (registration required)
---
Is all the Good Land Gone?
November 2017
Then this must-see webinar featuring land development experts and engineers will perhaps change the way you look at 'dirt' forever. Discover how ALL-TERRAIN SEWER can actually unlock and invent new land for you. Land never before considered buildable. Now you can develop new land in an environmentally sensitive way with maximum economic benefit for you and your community.
Our speakers Steve Sletner, P.E., and Joe Tortorello will provide real life case studies about challenging development projects and how ALL-TERRAIN SEWER provides for maximum density within an environmentally sensitive and economically sensible context.
---
The True Cost of Pressure Sewer Ownership
October 2017
This must-see webcast will cover why you can't afford to ignore low pressure sewer, as an economically sensible solution for replacing failing septic tanks or traditional gravity systems. Although the upfront and installed cost benefits of grinder pump driven pressure sewers are fairly well known, the relatively low-cost of maintenance and ownership can be surprising.
Our two distinguished presenters, Henry Albro, a licensed wastewater professional (Grade 7 Certified Wastewater Operator) and Chuck Mayhew, P.E., will demystify this proven technology that has been serving communities world-wide for nearly 50 years.
Included in this fast-paced hour will be real-life case studies; lessons learned; and the importance of fiscally future-proofing the system for the operators' peace of mind, as well as maximum homeowner satisfaction.
---
A New Life-Cycle Costing Tool for Sewer Systems
September 2017
Financing capital improvement projects, as well as ensuring that annual O&M budgets are sufficiently funded are ever-growing challenges for municipal utility districts nationwide.
This must-see webinar will cover:
Life Cycle Cost Analysis for Sewer Systems- including initial construction cost; operation, maintenance and repair costs; wastewater flows; and financial criteria
Overview of Wastewater Collection Systems - including conventional gravity sewer; grinder pump pressure sewer; septic tank effluent pump sewer; and vacuum sewers
Life Cycle Computational Models will be explored, integrating the various sewering techniques into a more holistic Life Cycle Cost Model for new construction, as well as sewer rehab/renewal programs.
If you're facing an upcoming sewer investment aimed at securing your community's environmental quality of life and public safety, you may find this webinar to be of great use in ensuring the best return on investment for your constituents, now and for the life of the system.
---
A New and Improved Approach to Sewer Renewal
February 2017
Faced with aging and failing wastewater conveyance systems, municipalities and sewer utilities are struggling with the challenges of providing responsive, cost-effective solutions for sewer renewal.
Join Keith McHale, P.E. as we explore the limitations of conventional sewer renewal systems and the advantages pressure sewer systems provide wastewater utilities for remedying infiltration and inflow problems in buried infrastructure.
Click here to view an archived version of this webinar.
---
The Rise of Intelligent Pressure Sewers
November 2016
Efficient and predictable operation of a sewer collection system is critical during design, construction and operation of the network. Pressure sewer systems are proven to offer efficiency and predictability, but there is always opportunity for improvement. Smart control systems such as OneBox represent a step change in how collection systems can be conceived, designed and operated. These control systems give the designer and the operator the ultimate flexibility to deliver predictable flow to downstream infrastructure by shifting or smoothing diurnal peaks. This enables the infrastructure, from the pipe network to the treatment plant, to be designed around actual flows instead of estimated or worst-case flows. The operator can monitor the system in real time and is notified about any issues far in advance of users, which minimizes operational costs and maximizes customer satisfaction. These systems are already in use in Australia and New Zealand, with more than 5,000 operating units in excess of four years.
Join E/One as we welcome the developers of this technology from Australia. Learn about the development of the product, system design methodology, and how E/One can help investigate a smart LPS option for your next sewer project.
Click here to view an archived version of this webinar.
---
The Anatomy of a Pressure Sewer Project
Gravity sewer service is not always available or feasible. A cost effective solution that can provide the same level of service is a pressure sewer system. Previously considered an alternative sewer system, pressure sewers are now common and reliable. This presentation will discuss in detail how to implement a successful pressure sewer project.
Click here to view and archived version of this webinar.
---
Pressure Sewer Operations: Secrets to Upgrading the Customer Experience
Join WaterWorld magazine and E/One Sewer Systems for this webinar for an overview of pressure sewer systems, why pump type choice is important, and a case study with Peru, NY, and their pressure sewer experience.
---
Low Pressure Sewer Systems: Providing a Sustainable Solution for Sewer Renewal
<p">As municipalities and sewer utilities move to repair, rehabilitate, or replace aging and failing sewer systems, many are starting to put an emphasis on providing a sustainable solution. Developed more than 40 years ago, low pressure sewer (LPS) systems have become a viable and appropriate alternative to conventional gravity sewers.
Traditionally, LPS systems have been used to provide central sewer service to areas where gravity sewer could not be installed, or the cost to do so was prohibitive. Now, LPS systems are gaining growing widespread acceptance in providing a viable and cost-effective alternative for renewal of failed gravity collection sewers and to address problems associated with wet weather events.
Click here to view an archived version of this webinar.
---
Evaluating and Deploying a Pressure Sewer System
Various sewer alternatives, including gravity, vacuum and pressure sewer will be explored. This program includes design, installation and O&M content, which will prove useful to anyone involved in the decision making and execution of a collection sewer program.
If you are planning a septic tank replacement project, this is a must-see event. In today's challenging economic environment, more municipalities and engineering firms are relying on the pressure sewer solution. Find out about the economic and environmental aspects of pressure sewer that can make or break a project. And learn about what helps ensure homeowner satisfaction before, during and after project completion.
Click here to view the archived version of this webinar (requires Adobe Flash player).
---
Pressure Sewer Design: The Key Elements Toward Saving Time and Money for Your Customers
This webinar reveals the ins and outs of grinder pump driven pressure sewer design and provides a glimpse at what type of performance successful applications should achieve. Proper pressure sewer design can save your customers well over 50 percent of what typical gravity designs cost. The benefits of these systems also include less environmental disruption due to smaller pipe sizes, shallower and speedier installation, and lower O&M cost.
Review this webinar from Water & Wastes Digest magazine:
Audio File (plays best with VLC Media Player, a free Windows program)
---
Grinder Pumps in Pressure Sewers
This introduction to pressure sewer systems is designed to educate engineers, builders, developers, homeowners, young consulting engineers inexperienced in grinder pump systems and system design, industry groups without knowledge of grinder pump systems and others.
Click here to access this free webinar from Pumps & Systems magazine.