George A. Earle III named President at Environment One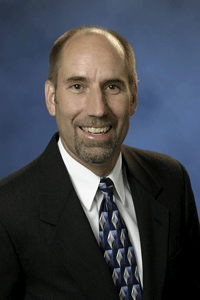 10 October 2007, Niskayuna, New York — As Environment One Corporation (E/One) enters the next phase in its growth plans, George A. Earle III has succeeded Philip Welsh as company president. Mr. Welsh, who is progressing forward to the next phase of his career, will stay on board through November to assure a smooth transition.
Previously, Mr. Earle served as E/One's VP - Technology and Business Integration and spearheaded the development of the recently launched E/One EXTREME grinder pump line. "His leadership abilities and proactive approach to innovative technologies made him an excellent candidate for president," Mr. Welsh said.
"Philip has led an extraordinary team that has delivered E/One to its current position of unequalled industry leadership and rock solid fundamentals, based on the tenets of innovation and extreme customer satisfaction in an increasingly lean manufacturing environment," Mr. Earle said. "And now more than ever, our relationship with Precision Castparts Corp. further enhances our culture of agility and performance.
"Facing harsh times in the municipal and builder/developer markets, while growing shareholder value, is the challenge moving forward. What we are really doing is reinventing E/One to become even more competitive in the markets we serve, and this new E/One enterprise will carry on with a clear vision toward a very promising future."
Mr. Earle rejoined E/One in 2005 after six years with Plug Power, working in the forefront of hydrogen fuel cell technology, gaining an advanced knowledge base and an excellent network in that new technology. During his tenure at Plug Power, Mr. Earle held numerous, diverse positions, including Director of Product Safety and Compliance, Director of Stationary Product Engineering and Development, and Director of Government Relations. Mr. Earle served four terms as President of the U.S. Fuel Cell Council and was active in the development of codes and standards both domestically and internationally to address fuel cell technology. Mr. Earle has more than 20 years of engineering experience in a variety of industries including aerospace, robotics and automation, advanced composites, wastewater, and power generation. He earned both a B.S. and M.S. degree in Mechanical Engineering from Rensselaer Polytechnic Institute (RPI). Mr. Earle currently holds 10 U.S. patents.
Environment One Corporation is an operating company of Precision Castparts Corp. (NYSE: PCP), a worldwide manufacturer of complex metal parts and industrial products. With corporate headquarters in New York and regional offices and distribution throughout the industrialized world, E/One is a manufacturer and provider of:
Products and services for the disposal of residential sanitary waste.
Utility Systems for the protection and performance optimization of electric utility assets.
###
Media Contact: George Vorsheim 518.346.6161 Ext. 3279